SOLIDARITY
In 1993 the Biondan Family decided to build a school in the favelas of Vila Cafeteira – São Luís, Brazil, with the money originally allocated for their customers' Christmas presents. The initiative strongly impressed Walter and Arturo Biondan, as well as their children; after a few meetings with Sister Armida Terraneo, who had been living in Brazil since 1980, the project started, to bring some change to a country plagued by unemployment, drugs and social and environmental degradation.
The centre was called "Pào da Vida", 'the Bread of Life', and was built in Fratelli Biondan Street, no. 1. 75% of kids in Northeastern Brazil live in families who earn less than € 50 per month (half of the minimum wage). The majority of these families are fatherless and live in homes without water, toilet and sewers. 20% of teenagers between 10 and 14 already work, often in abusive and slavish conditions. School is the only way to aim to a decent life for them. Today "Pao da Vida" is a strong reality in the community. Children attend school alternating in two shifts, mornings and afternoons, and receive a free meal per day. The school also provides pediatric and dental examinations as well as psychological counseling.
CHILDREN ATTEND THE NURSERY SCHOOL
CHILDREN ATTEND THE PRIMARY SCHOOL
CHILDREN ATTEND THE JUNIOR HIGH SCHOOL
The Biondan Family went to São Luís twice to visit the school and admire the astonishing work of Sister Armida. Each time Walter and Arturo were moved in seeing all the citizens of the town gathered to welcome them with greatest honors. What they reallly wanted to see, though, were the kids and their quality of life. Their behaviour at school was characterized by tidiness, serenity, cheerfulness and commitment. It was clear that in those places everyone was BUILDING THE FUTURE.
Three workshops are available:
COMPUTER SCIENCE
Used by teenagers. They can learn how to use traditional software and internet, thus getting in tough with faraway places.
HAIRDRESSER
Currently used by the children and their mothers.
TAILOR
A tailor's workshop inside the centre produces the children's uniforms and does small repairs.
Sister Armida's aim is that the children use these laboratories in order to obtain professional diplomas.
The school also offers pediatric and dental examinations, as well as psychological counseling.
Why is everybody's help important?
Currently, 700 out of 1836 children are being long-distance adopted.
Supporting this project is important, because school is central in society and the basis for the future of individuals and countries. In this neighborhood of favelas, where most of the homes are made of mud, without water or electricity, where open sewers cause the spread of diseases, and where single mothers are most the common situation, the missionary house and the school become the only guiding lights.
All the contributions given in the past years were of paramount importance to build the centre, but there is still a lot to do. Whoever wishes to contribute to its development can do it by means of long-distance adoption.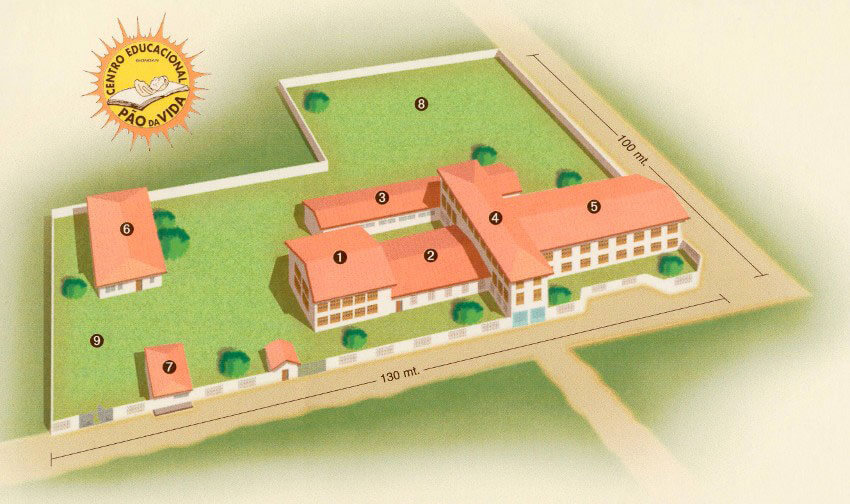 DISTANCE ADOPTION: A TRUE ACT OF LOVE
Every scholastic distance adoption refers to a specific child and it consists of a maximum annual payment of 260 €.
The association in charge of fund-raising is:
Associazione Amici dei Bambini dell'Escolinha Sagrado Coraçao de Jesus e del Centro Educacional Pão da Vida – O.N.L.U.S.
Bank: Banco BPM Agenzia Arosio (CO)
IBAN: IT86 O 05034 50890 000000013269
BIC/SWIFT: BAPPIT21B58
Oppure in ufficio postale: Via Monte Sabotino, 62 22044-Inverigo (CO) C/C Postale n.37696861
Tel: 031-697314
Email: luisa.terraneo@virgilio.it
Fiscal number: 90019400135